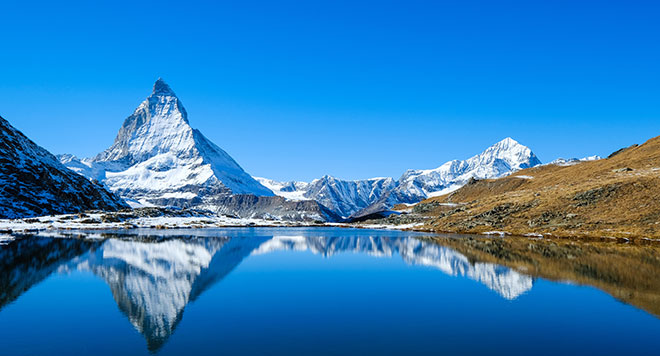 Finding your perfect location for a property can be hard with so many exceptional choices amongst the twenty-two resorts we cover, so we've listed our top-ranking Swiss resorts to help you. We've included the best two for each factor such as skiing, village appeal, summer seasons, value for property and more!
Skiing
1. Verbier – In top place for skiing we have placed the extraordinary and world-famous Verbier. As part of the 4 Vallees, this satellite village has access to over 400km of slopes (one of the largest areas in Europe) and reaches a high peak altitude of 3330m. For challenging and thrilling skiing and for those wanting to push their abilities, Verbier will never disappoint. Mont Fort, Tortin, Mont Gelé, and Bec des Rosses are just a few of the tremendous slopes which attract skiers from across the globe. What's more, the slopes are known to be sunny, and the efficient lift system will have you travelling up the mountains in no time at all.
2. Zermatt – At a close second, we have Zermatt. Skiing with the dramatic backdrop of the Matterhorn in itself places this resort exceptionally high. Zermatt has its own microclimate which ensures that you can always rely on snowy slopes and a long ski season due to the glacier skiing and peak altitude of 3820m. Zermatt also offers heli-skiing and ski mountaineering which is perfect for adventurous skiers seeking something a little different. For a steep descent be sure to try out Triftji and Schwarztor.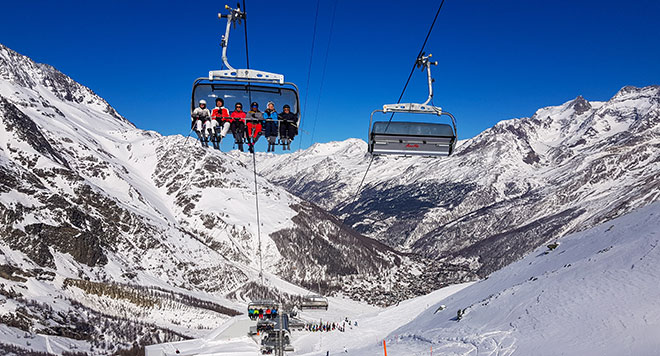 Village Appeal
1. Saas-Fee – An easy top place for us is the charming dual season resort Saas Fee. From spectacular scenery to exceptional skiing and exquisite food, Saas Fee scores highly in every possible way. Whether you're there in one of the ten months of the year for skiing or you're there to enjoy the fresh summer, Saas Fee will always welcome you with thriving events, fun après, gastronomic delights and majestic mountain scenes. The friendly village exudes authentic Swiss charm through its narrow, cobbled streets and stunning chalets. Saas Fee is also car-free which enhances its family-friendliness and wraps you in a bubble of paradise.
2. Wengen – Like Saas Fee, Wengen is also a traffic-free village bursting with a traditional Swiss atmosphere and timeless beauty. As you arrive on the cog railway the special nature of the village is immediately revealed through the majestic sights of Jungfrau and the Eiger. Located in the Lauterbrunnen Valley, Wengen is a gateway to the 'top of Europe'. Wengen hosts many cultural events which allow you to immerse yourself in this quintessential Swiss resort and get a feel for authentic mountain life.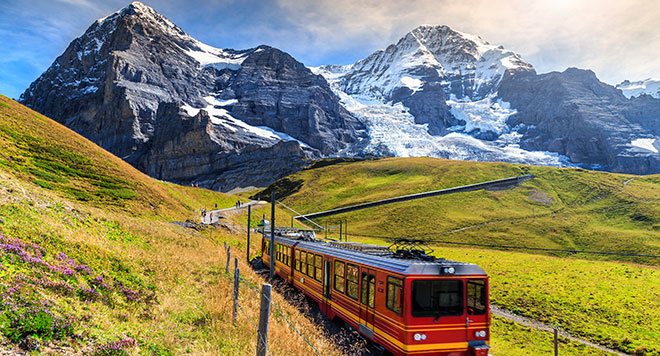 High Altitude Skiing
1. Saas Fee – Scoring highly again is Saas Fee, in first place for high altitude skiing. At a mighty altitude of 3500m, the possibility to ski the Allalin glacier is available all year round. With such high-altitude skiing, snow reliability is very high as are the mesmerising panoramic views from so high up.
2. Grimentz – Located in the Val d'Anniviers region of Valais lies our second-place resort Grimentz. From as high up as 3000m avid skiers can explore the vast untouched snow fields whilst surrounded by pristine and quiet beauty.
High-end Resort
1. Crans Montana – When thinking of affluence, prestige, and Michelin star meals, Crans Montana is the place that comes to mind. In the heart of the Swiss Alps, surrounded by views of the Matterhorn and Mont Blanc lies this this up-market and world-class resort. Full of designer shops and boutiques, Crans Montana will be sure to have your favourite high-end shop. The Omega European Masters is also held in the exclusive Crans-sur-Sierre golf club adding even more allure to the resort.
2. Verbier – Scoring highly again is the elite Verbier. Renowned not only for its excellent skiing, the resort is also home to some exclusive and prestigious events such as the Verbier Festival which is highly regarded in the world of classical music. Offering a large array of designer shops and globally famous restaurants, Verbier is a playground for celebrities and high-profile visitors that continues to attract affluent travellers seeking a combination of world-class skiing, refined amenities, and a sophisticated alpine experience.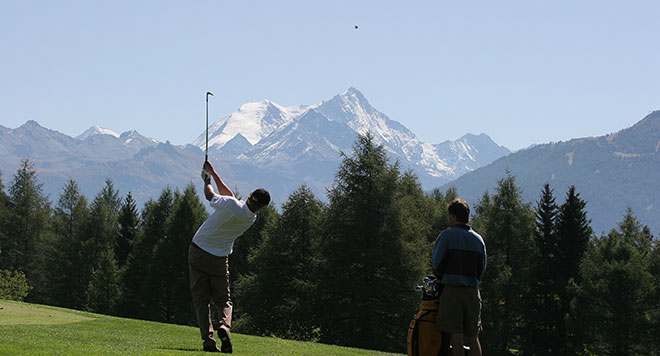 Summer Appeal
1. Crans Montana – With another first place, this resort stands out as the premier Swiss summer resort with its breath-taking alpine landscapes, extensive outdoor activities, luxurious amenities, and a vibrant cultural scene. Known as the sunniest plateau in the Alps, what better place to enjoy the summer warmth than by Crans Montana's own natural lake. From hiking and golfing to relaxation and swimming, it offers an unparalleled combination of natural beauty and elegance, making it the ultimate destination for summer enjoyment.
2. Grindelwald – Grindelwald comes in second place amongst Swiss summer resorts thanks to its picture-perfect alpine scenery, extensive network of hiking trails, exhilarating mountain sports such as paragliding and rock climbing, and easy access to renowned attractions such as the Eiger and Jungfrau. Its blend of natural beauty and thrilling outdoor activities make it a haven for summer adventurers. A popular tourist attraction is the 100-year-old cog railway taking you up to one of the highest viewpoints in Europe.
Airport Proximity
1. Villars – Located just 1:20 hours from Geneva airport gives Villars top place for proximity to the airport. In less than an hour and a half you can travel 125 kilometres and get straight from the airport to the ski resort.
2. Andermatt – Driving from Zurich airport to the enchanting resort of Andermatt takes only 1:30 hours. This short distance is incredibly convenient and means that your ski holiday can start almost straight away after the plane touches the ground.
Value for Money
1. The 4 Vallees – Buying property in one of the resorts within the 4 Vallees is always going to be an excellent investment thanks to the high status of the area and vast ski terrain. The region's popularity as a world-class ski destination, the consistent demand for rental properties and the reliable snow conditions makes it great value for money. The average price per m² is CHF 19,817 but the convenience of being able to both ski and visit one of the neighbouring resorts within the 4 Vallees in just one day effectively gives you four resorts for the price of one.
2. Saas Fee – With a pleasing mix of old, traditional chalets and brand-new apartments and penthouses, Saas Fee has a desirable collection of properties. The average price per m² for an apartment in Saas Fee is around CHF 9,707 which is exceptional value for money.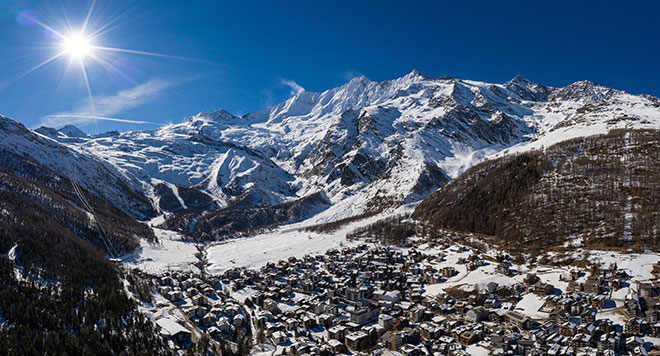 Scenery and Resort Feel
1. Wengen – Wengen manifests a charming and idyllic feel that without a doubt brings the resort into top place. Boasting dramatic and stunning alpine scenery with towering peaks, cascading waterfalls and picturesque meadows, the captivating views of the Jungfrau alone bring visitors to the village.
2. Zermatt – In second place, we have the justly famous Zermatt coming in strongly with its vibrant feel and blend of Alpine enchantment and cosmopolitan energy. The iconic Matterhorn dominates the skyline, while the car-free village offers an ambiance which is relaxed by day and lively at night. With its upscale amenities, lively après-ski scene, and world-class skiing, Zermatt radiates a unique mountain vibe making it one of our favourites.